The Hike:
We begin in the Yaafuri Valley, between the apple and cherry orchards of the Druze villages. The path ascends to a beautiful lookout over a lake known as Birket Ram – a natural reservoir situated at the foot of Mt. Kramim, and fed by both an underground water flow, as well as rainwater. We will continue walking between the orchards, and despite the urge, we won't pick fruit from the trees. We'll enter the Odem Forest Reserve, which is the biggest forest reserve in the Golan. In the forest, you can find three species of oak trees: the Common oak, the Mt.Tavor oak, and the Aleppo oak. In the fall, crocuses bloom here; in the winter, you can find the Round-Leaved cyclamen, which is more beautiful and delicate than the more common Persian cyclamen. We'll climb Mt. Odem ("the red mountain"), which earned that name thanks to its reddish scoria rock. From the peak of Mt. Odem, there's a beautiful view of the Odem Forest, Moshav Odem at the foot of the mountain, the local Druze villages (Masadeh and Bukata), the Valley of Tears, and the volcanoes. We will descend from Mt. Odem and finish our hike at the 7th Brigade Recon Memorial, adjacent to Kibbutz El-Rom, where you will find a JNF Overnight Campsite.
Arrival: The trailhead is in the Yaafuri Valley.
End of Hike: The 7th Brigade Recon Unit Memorial
Public Transportation:
There is public bus service to the village of Masadeh. From there, walk to the trailhead.
To get to the memorial, take a bus to the El-Rom Junction, and then walk about one kilometer north.
Hiking Rules & Safety:
*In the Golan, it is strictly forbidden to cross fences or wander off the marked trail; in a number of places, the path goes near minefields.
*It is forbidden to enter IDF live-fire training areas.
*In the Golan, you will see many cattle fences; make sure you cross only at the official crossing points. Open the gate, and remember to close it behind you! It is forbidden to climb or cut fences.
*Be very careful when crossing or walking on roads.
*Overnight camping is allowed only at official campsites. Don't camp out in the middle of a trail segment, or anywhere that is not an approved campsite.
*It is strictly forbidden to burn toilet paper. Don't light a fire under trees, and never leave a campfire unattended.
*Make sure you take your trash with you, and leave sites cleaner than when you arrived.
Thank you, and enjoy your hike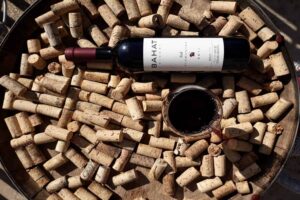 פעילות לכל המשפחה ביקב בהט – סדנאות לילדים: יקב בהט מציע סדנת יין מיוחדת ומרגשת