The Hike:
We begin our hike on the slopes overlooking Lake Kinneret, which is about 400 meters underneath us. It's hard to move one's eyes from the beautiful blue waters, but we will nevertheless choose to leave the trail for just a few moments to visit the old Bnei Yehudah village (Bir e-Shgum).
Here, Jewish pioneers tried to live and farm at the end of the 19th century; they were families from Tzfat from a group known as "Bnei Yehudah". In 1972, a new moshav was built right above this site, and was aptly named Bnei Yehudah.
The hike ends at a grove of trees near Moshav Givat Yoav. Near the grove is a breathtaking lookout spot known as Mitzpeh Ofir, that offers majestic views of Lake Kinneret and much of northern Israel. It was established by the Shaal family from Givat Yoav, in memory of their son Ofir.
Arrival:
Nachal T'ayna on Road 789 – From Kursi Junction, drive up Road 789 (east) a little more than 7 kilometers, until you reach a dirt road that goes down from the road to the west. You can park your car right next to the Golan Trail sign, since it's not recommended to park on the side of the road.
The Givat Yoav Grove – As you drive into Moshav Givat Yoav, drive next to the perimeter fence, and leave the Moshav via the western gate. Drive 0.5 kilometers on a dirt road, until you reach the grove that has a Golan Trail sign at its entrance.
Public transportation: There is bus service to Givat Yoav. For bus details, see: www.golan.org.il/bus.
Hiking Rules & Safety:
*In the Golan, it is strictly forbidden to cross fences or wander off the marked trail; in a number of places, the path goes near minefields.
*It is forbidden to enter IDF live-fire training areas.
*In the Golan, you will see many cattle fences; make sure you cross only at the official crossing points. Open the gate, and remember to close it behind you! It is forbidden to climb or cut fences.
*Be very careful when crossing or walking on roads.
*Overnight camping is allowed only at official campsites. Don't camp out in the middle of a trail segment, or anywhere that is not an approved campsite.
*It is strictly forbidden to burn toilet paper. Don't light a fire under trees, and never leave a campfire unattended.
*Make sure you take your trash with you, and leave sites cleaner than when you arrived.
Thank you, and enjoy your hike!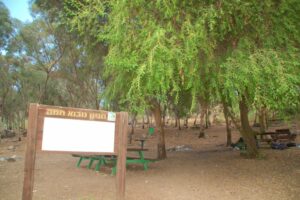 חניון ביער קק"ל על שביל הגולן ובו נמצא מעיין עין עקוב (תאופיק). במקום- חניה לרכבים,