The Hike:
We begin hiking near the ruins of Hushniya, which was a Circassian village located here until the 1967 Six-Day War. The Circassians were brought to the area by the Ottoman Empire, who had them live on the outskirts of the region in order to guard against raids by Bedouin tribes. The village mosque is still visible today.
The trail goes through the eastern edges of the Fahem Springs Nature Reserve. This reserve includes a flat area in which tens of springs flow, throughout the entire year. The trail goes right through the water (often up to one's knees!), so water shoes or sandals are recommended here.
We will continue to the ruins of another village, Faraj, which has buildings still standing since the Byzantine Period. Many of these homes stand at a height of two stories, and include stone arches that support the top story. Adjacent to the village is a winter pond that is home to rare water plants.
The hike ends at a grove of eucalyptus trees at Um el-Dananir. Here you will find a spring that flows into a pool, and benches for weary hikers.
Arrival:
Hushniya Grove – Drive east on Road 87, pass the entrance to Moshav Keshet, and continue about 500 meters until you reach a mosque. Drive onto a dirt road for about 200 meters.
Um el-Dananir – Drive from the Mapalim Junction (where Road 808 meets Road 87, north of Moshav Aniam) to the east about 3.5 kilometers until you reach the TAP-line Road. Continue on the TAP-line road for about 4.2 kilometers until you reach another intersection with a road that goes west towards Moshav Yonatan. Drive on this road for 2.2 kilometers until the turn-off to Yonatan (but don't turn there); after 250 meters, turn east and drive for about 900 meters, next to vineyards. Um el-Dananir is about 300 meters north of the road.
Hiking Rules & Safety:
*In the Golan, it is strictly forbidden to cross fences or wander off the marked trail; in a number of places, the path goes near minefields.
*It is forbidden to enter IDF live-fire training areas.
*In the Golan, you will see many cattle fences; make sure you cross only at the official crossing points. Open the gate, and remember to close it behind you! It is forbidden to climb or cut fences.
*Be very careful when crossing or walking on roads.
*Overnight camping is allowed only at official campsites. Don't camp out in the middle of a trail segment, or anywhere that is not an approved campsite.
*It is strictly forbidden to burn toilet paper. Don't light a fire under trees, and never leave a campfire unattended.
*Make sure you take your trash with you, and leave sites cleaner than when you arrived.
Thank you, and enjoy your hike!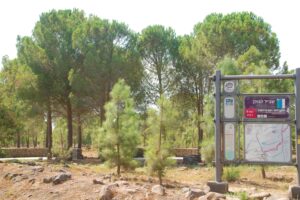 חניון גדול ומסודר בחורשת קק"ל סמוך לכביש 869 וצומת דליות. במקום- חניה גדולה, שולחנות, פחי