The Hike:
We'll begin our hike at Bab el-Hawa ("The Gate of the Wind") at the edge of the Merom Golan Reservoir (adjacent to Kibbutz Merom Golan). This is one of the many reservoirs in the Golan that are used for irrigating agricultural fields. Nearby, the wind turbines are very conspicuous against the background of the northern Golan and Mt. Hermon.
We will climb to the peak of Mt. Bental, and there we'll get a fantastic view of the entire northern Golan: volcanoes, vineyards, orchards, and in the background towards the east – Syria. We'll descend to the crater of the Mt. Avital volcano, and see a sculpture of Nadia Cohen; this is part of the Eli Cohen Trail that was established in memory of "Our Man in Damascus".
We will continue on top of Mt. Avital, and then descend to an oak forest next to Kibbutz Ein Zivan. Between the trees, you can find a rare purple crocus that blooms here in the fall (Feinbrun's Autumn crocus blooms in October-November). We'll finish our hike at the Ein Zivan campsite.
Arrival:
Bab el-Hawa – From the Bar-On Junction (where Road 98 meets Road 959), drive west for just over 1 kilometer; the entrance to the Bab el-Hawa archaeological site is via a gate in the cattle fence to the north of the road. South of the road is the Merom Golan Reservoir.
Ein Zivan campsite – There is bus service to Kibbutz Ein Zivan. Right across the street from the entrance to Kibbutz Ein Zivan is the campsite. For bus details, see: www.golan.org.il/bus.
Hiking Rules & Safety:
*In the Golan, it is strictly forbidden to cross fences or wander off the marked trail; in a number of places, the path goes near minefields.
*It is forbidden to enter IDF live-fire training areas.
*In the Golan, you will see many cattle fences; make sure you cross only at the official crossing points. Open the gate, and remember to close it behind you! It is forbidden to climb or cut fences.
*Be very careful when crossing or walking on roads.
*Overnight camping is allowed only at official campsites. Don't camp out in the middle of a trail segment, or anywhere that is not an approved campsite.
*It is strictly forbidden to burn toilet paper. Don't light a fire under trees, and never leave a campfire unattended.
*Make sure you take your trash with you, and leave sites cleaner than when you arrived.
Thank you, and enjoy your hike!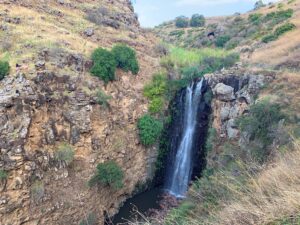 Background: This riverbed is popularly referred to by hikers as "The Jilabun," which derives from