The Hike:
This is a hike at an altitude of 1,000 meters above sea level – and even higher. It passes through vineyards and pastureland. The trailhead is at the 7th Brigade Recon Memorial, which is in memory of the 24 members of the IDF company who fell in the 1973 Yom Kippur War.
We will walk at the foot of Mt. Hermonit, which has a deep red color to it; this comes from the scoria rocks that build the volcanic hill. We will stop for a view of the Valley of Tears; here there was a fierce battle to hold back the huge Syrian forces that were attacking Israel during the Yom Kippur War.
The wind turbines in the Valley of Tears are very conspicuous. There are 30 turbines that can supply 96 megawatts; this is enough to meet the electricity needs of 40,000 Israeli households.
We will finish our hike at Bab el-Hawa (Arabic for "Gate of the Winds"). Here there are remnants of an ancient village, as well as a burial cave with graves built on two stories. Nearby is a winter pond and two reservoirs – the Merom Golan Reservoir and the Bar-On Reservoir.
Arrival:
7th Brigade Recon Memorial – The memorial is on the western side of Road 98, about one kilometer to the north of Kibbutz El-Rom.
Bab el-Hawa – From the Bar-On Junction (where Road 98 and Road 959 meet), drive west a little more than 1 kilometer. The entrance to the archaeological site is by way of a gate in the cattle fence to the north of the road. South of the road is the Bental Reservoir.
Public Transportation:
7th Brigade Recon Memorial – There is bus service to the El-Rom Junction, and from there you can walk about 1.5 kilometers to the trailhead at the memorial site.
Hiking Rules & Safety:
*In the Golan, it is strictly forbidden to cross fences or wander off the marked trail; in a number of places, the path goes near minefields.
*It is forbidden to enter IDF live-fire training areas.
*In the Golan, you will see many cattle fences; make sure you cross only at the official crossing points. Open the gate, and remember to close it behind you! It is forbidden to climb or cut fences.
*Be very careful when crossing or walking on roads.
*Overnight camping is allowed only at official campsites. Don't camp out in the middle of a trail segment, or anywhere that is not an approved campsite.
*It is strictly forbidden to burn toilet paper. Don't light a fire under trees, and never leave a campfire unattended.
*Make sure you take your trash with you, and leave sites cleaner than when you arrived.
Thank you, and enjoy your hike!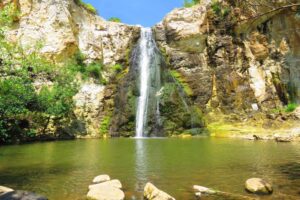 Background: In the southern Golan, there is a narrow and twisting canyon that is known