The Hike:
This segment goes through the heartland of the Golan's basalt plains; yet there's a hidden surprise: Rujum el-Hiri. This gigantic stone structure from the Bronze Age is built of three concentric walls, with a burial site in the middle. There are many theories as to this structure's use: Was it an ancient cultic site? Was it an ancient astronomic compass/calendar? If you visit the site, try to crawl into the burial niche in the very center of the circles. And if you're already there, go for a refreshing dip in the water of the nearby Ein Faress spring, right next to the Golan Trail (it's about 1.5 kilometers from the Rujum, on the northern side of the trail).
Later, we'll pass by the Daliyot Reservoir, one of the many reservoirs that were built in the Golan to collect rainwater for irrigating agricultural fields. The hike ends at the Daliyot campsite.
Please note: During the rainy season, and a bit afterwards, the area is flooded, and if that's the case, hiking this segment is not recommended!
Arrival:
Um el-Dananir – Drive east from Mapalim Junction (where Road 808 meets Road 87, just north of Moshav Aniam) for about 3.5 kilometers, until you reach the TAP-line Road. Continue 4.2 kilometers on the TAP-line Road until you reach an intersection with a road that leads to Moshav Yonatan. Drive 2.2 kilometers until the turn to Yonatan (don't turn there); 250 meters afterwards, turn east and drive another 900 meters, alongside vineyards. Um el-Dananir is located about 300 meters north of the road.
Daliyot Campsite – From Daliyot Junction (where Road 808 meets Road 869), drive on Road 869 for about 700 meters; the campsite is to the north of the road, on your right.
Public Transportation: There is bus service to Daliyot Junction; from there, you can walk a little more than 500 meters to the Daliyot campsite. For details on bus service, see: www.golan.org.il/bus.
Hiking Rules & Safety:
*In the Golan, it is strictly forbidden to cross fences or wander off the marked trail; in a number of places, the path goes near minefields.
*It is forbidden to enter IDF live-fire training areas.
*In the Golan, you will see many cattle fences; make sure you cross only at the official crossing points. Open the gate, and remember to close it behind you! It is forbidden to climb or cut fences.
*Be very careful when crossing or walking on roads.
*Overnight camping is allowed only at official campsites. Don't camp out in the middle of a trail segment, or anywhere that is not an approved campsite.
*It is strictly forbidden to burn toilet paper. Don't light a fire under trees, and never leave a campfire unattended.
*Make sure you take your trash with you, and leave sites cleaner than when you arrived.
Thank you, and enjoy your hike!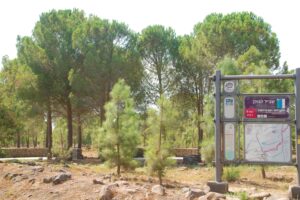 חניון גדול ומסודר בחורשת קק"ל סמוך לכביש 869 וצומת דליות. במקום- חניה גדולה, שולחנות, פחי